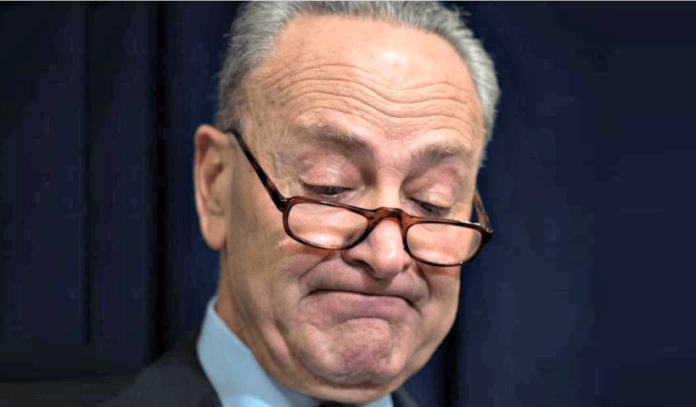 While the U.S. Embassy in Jerusalem was opened this Monday with no sitting congressional Democrats attending, one leading liberal has broken ranks with his party by lauding President Trump's diplomatic decision.
Senate Minority Leader Chuck Schumer praised the embassy's shift from Tel Aviv to Jerusalem, explaining the move as "long overdue."
"Every nation should have the right to choose its capital," said Schumer in a statement. "I sponsored legislation to do this two decades ago, and I applaud President Trump for doing it."
Last year House Minority Leader Nancy Pelosi criticized President Trump's decision, despite having voted in favor of moving the U.S. Embassy back in 1995.
Two sides tell two different stories as of why there wasn't a Democratic delegation present for the embassy's opening.
I saw some reports that suggest the ceremonies around the opening to the U.S. embassy in Jerusalem were bipartisan and included democrats too. This is not an accurate description – and I am being very diplomatic here. No democrats from the Senate or the house are attending

— Barak Ravid (@BarakRavid) May 14, 2018
Israel's Channel 10 News reported no Democrats were invited to the ceremony. But Sen. Ted Cruz (R-Texas), who was in attendance Monday, said invitations weren't necessary for members of Congress.
"I don't know why the Democrats will not be here, chose not to come. Every member of Congress had the option before them to come and be here," Cruz said, according to The Times of Israel. "There was no way on earth we could have inaugurated this embassy without my being here to celebrate it. It's too important."
And Rep. Joe Wilson, who led a group of ten House Republicans to the ceremony, opened the House delegation to all members, including the Democrats, but Democratic Party leadership blocked liberal lawmakers from attending, Israeli journalist Ariel Kahana reported:
"Not correct. Every member of Congress was invited through the congressional delegation (codel) of congress member Joe Wilson who opened his codel to any member who wanted to come. People involved in the process blame the democratic leadership of congress blocked its members " he posted on Twitter.
This Monday, President Trump celebrated the embassy's opening through a video address, describing the historic occasion as "a great day for Israel."
"This city and this entire nation is a testament to the unbreakable spirit of the Jewish people," said President Trump. "The United States will always be a great friend of Israel and a partner in the cause of freedom and peace."