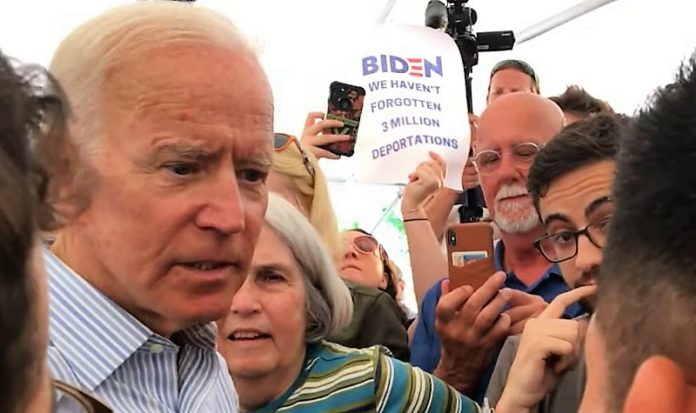 Joe Biden is famous for making campaign-ending gaffe's. Today, he made the first of many to comes gaffes, when he was getting heckled at an event by people protesting the 3 million deportations that happened under former President Obama when he said, 'we need family separation,' before apologizing for some deportations but not others.
"I want you to apologize to the three million immigrants that were deported and separated from their families under the Obama years," a man speaking Spanish told Biden through a translator.
"I want to know if you will commit to stopping all deportations and detentions if you are elected president." the man added.
"Under my administration, there will be no family separation until there is a hearing whether or not asylum is in fact warranted," Joe Biden responded to the man speaking Spanish.
"And there is no need to put anybody in a private prison, when we did it there was a court where you could have people show up for their hearings whether or not they were separated." he continued.
"I will not apologize for the deportation of people who have committed a felony," he added. "I will apologize for deportations if in fact you were deported because in fact you were engaged in a misdemeanor… or your family was separated."
"We need family separation," Joe Biden added, putting his hands together, appearing to indicate reunification instead, Breitbart reported.
The Former Vice President appeared to commit a gaffe, telling immigration activists, "We need family separation."
Biden, who is facing increased criticism over the 3 million deportations that occurred under Obama's administration, made the gaffe during a campaign event in New Hampshire when he was confronted by immigration activists.