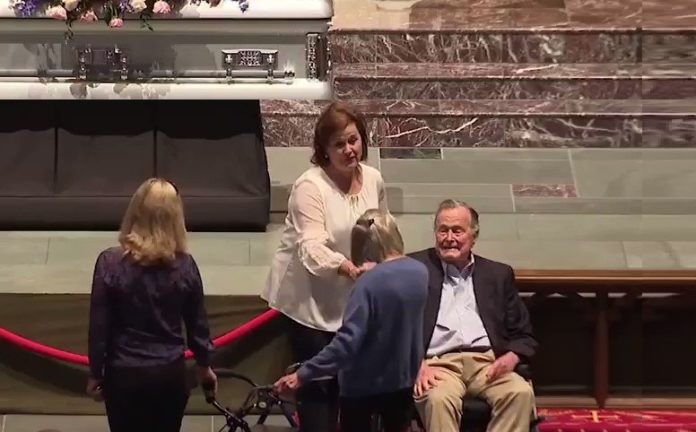 This Friday, former President George H.W. Bush was present at the public viewing of his wife's remains and greeted the people who mourned the loss.
Former first lady Barbara Bush's public viewing was held at St. Martin's Episcopal Church in Houston, Texas, and was open to everyone who wanted to attend.
Former President George H.W. Bush flanked by his daughter, Dorothy Bush Koch shook hands with visitors as they made their way through the church.
NBC News White House correspondent Kelly O'Donnell posted a tweet earlier that while the public viewing was planned, they made an off-the-cuff decision so that the former President can show his gratitude for attendees.
You can watch the video on the link bellow:
Former Pres. George H. W. Bush greets fellow mourners as Barbara Bush lies in repose in Houston, Texas. https://t.co/RfBnYx7Q8c pic.twitter.com/vJrh0vR7uf

— ABC News (@ABC) April 20, 2018
Kelly O'Donnell went on to explain that an aide to the former president told reporters, 'He just said, 'I want to go.' It was completely spontaneous.'
She continued to reveal that more than 6,200 people entered the church and payed their respect to the inspiring woman. Knowing how many people want to express their condolences and their affection to former First Lady Barbara Bush, George H.W. Bush felt very comforting.
This Saturday, during an invite-only service, family and friends gathered at the same church to lay former first lady Barbara Bush to rest.
Many prominent speakers honored Barbara's legacy and her son, former Gov. Jeb Bush delivered a eulogy that commemorated his mother's commitment to raising her children.
Jeb Bush also listed a few more lessons his mother taught him and among other things, instilled in them to 'love your God with your heart and soul.'
First Lady Melania Trump attended the private service and among the others there were former Presidents Barack Obama and Bill Clinton, former first ladies Michelle Obama and Hillary Clinton.
All our thoughts and prayers go to former President George H.W. Bush and his family for the loss of their loved one. We hope that the former President can make it through these tough times of grief and sorrow and stay strong and healthy for many years to come.