First Lady Melania crushed reports of a 'public argument' with her husband on Wednesday, when she her husband's hand in a display of intimacy as they couple returned from a trip to Atlanta for a drug abuse summit.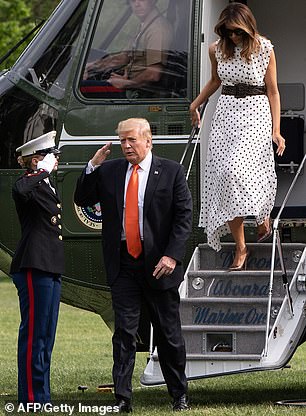 Melania looked stunningly beautiful in a white-and-black polka dot dress as she and her husband President Trump walked across the White House lawn hand-in-hand, with the first lady taking advantage of the warm weather and going without the stylish white coat she wore in the morning.
She did keep her dark sunglasses on as she made her way across the grass, while her husband flashed a wave at the waiting photographers.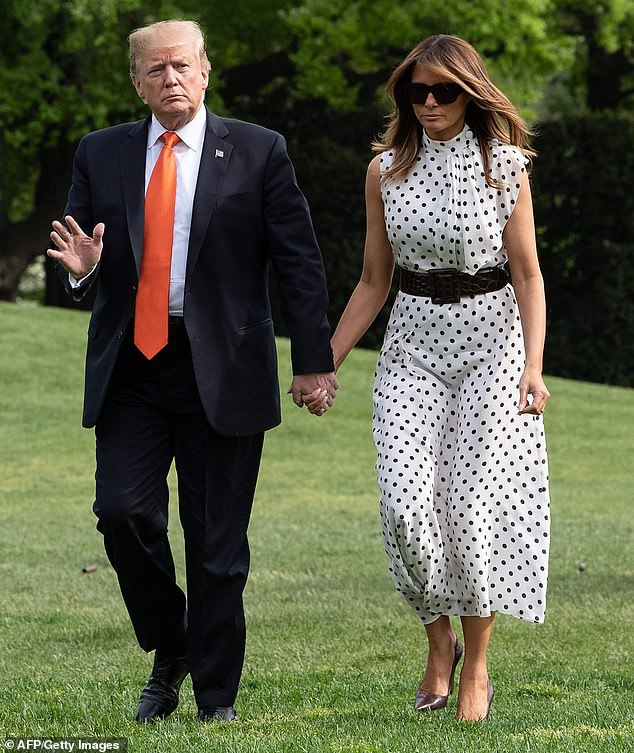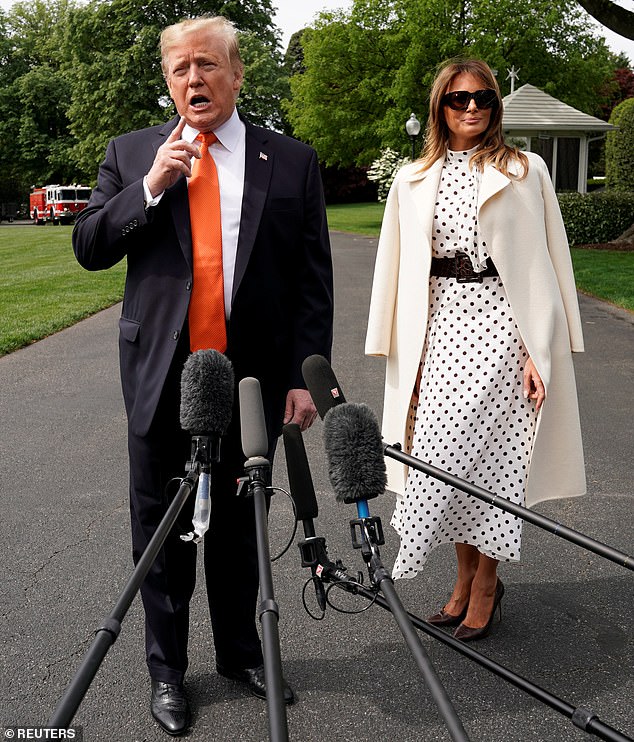 The first couple returned to the White House after they made a brief visit to Atlanta, Georgia, where they spoke at the Rx Drug Abuse & Heroin Summit. President Trump took the opportunity to praise his wife's 'hard work' after taking the stage following her introduction.
"I want to thank you all and especially Melania," said the President.
"She works so hard and those moving words [she said about me]… Even if it is from your wife, so maybe she's a little bit prejudiced that way, but I will say that she is a hard worker and she has profound commitment to building a drug-free future for America's children. We're going to do it too."
First Lady Melania introduced President Trump at the summit, and when she took the stage, she thanked members of law enforcement 'for all they do to protect us each day,' before speaking about the opioid epidemic in our country.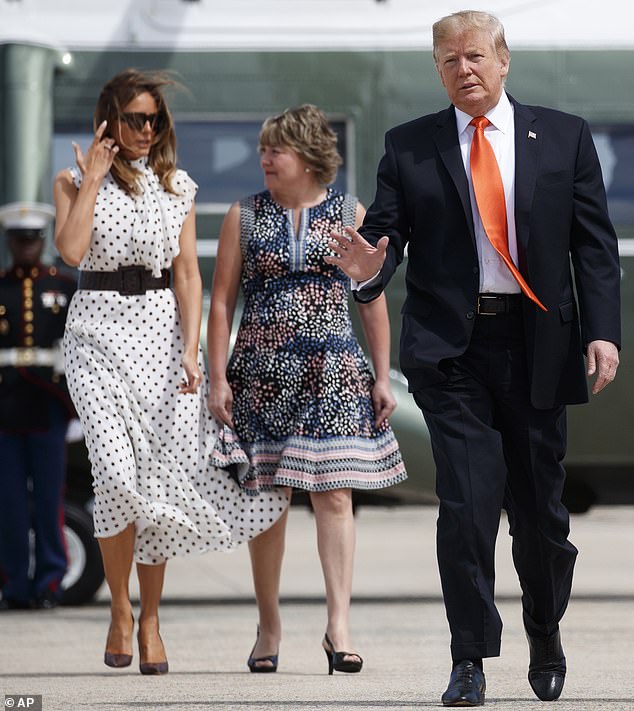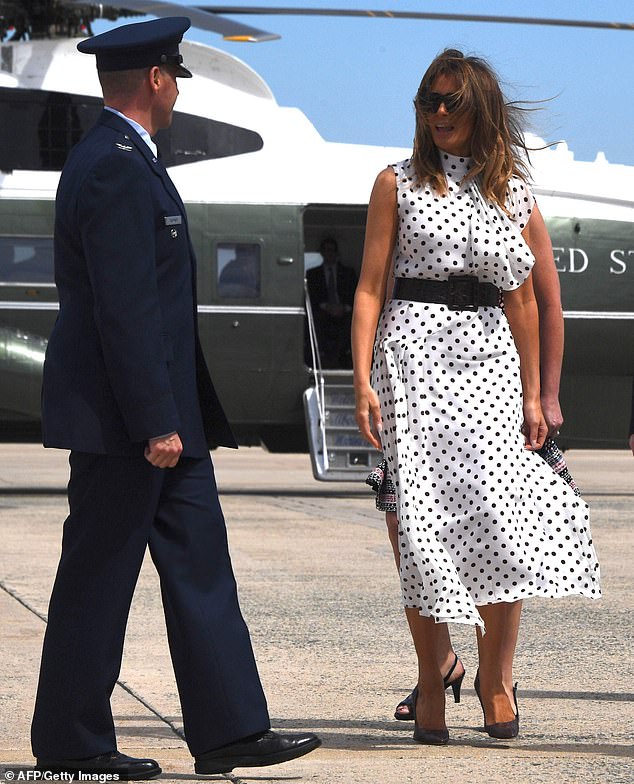 "In my role as first lady, much of my focus has been addressing the terrible toll the opioid epidemic is having on our children and young mothers," she said.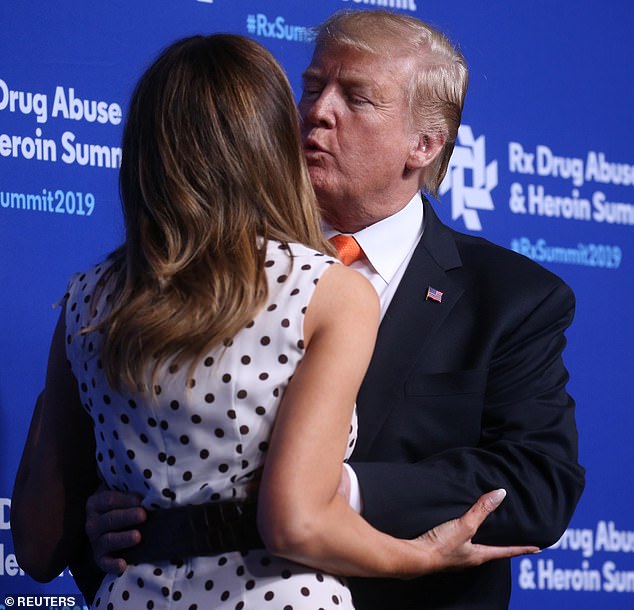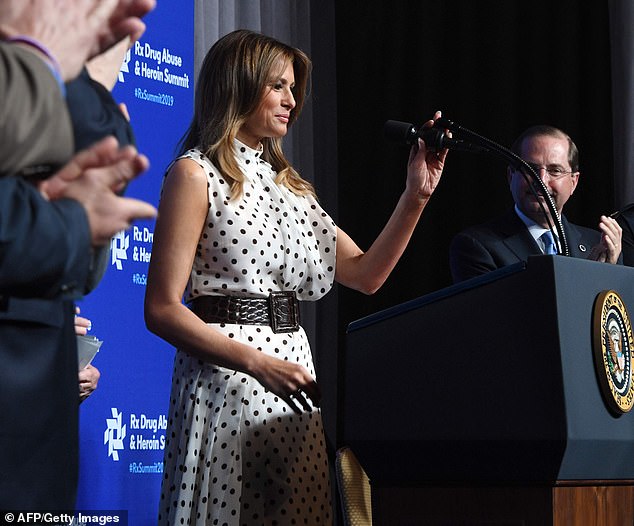 "I have seen first hand both the medical and personal results of this crisis. I have visited hospitals and treatment centers around the country. I have met with doctors, nurses, mothers, and children."
"We will continue to raise awareness of the dangers of opioids to unborn babies,' she continued. 'We are also committed to supporting more treatment facilities that help both mothers and babies recover and replace the bond of addiction with the bond of love between a mother and her child." Melania said.
The first lady recalled sending a video message to the children attending Operation Unite's summer camp last year. She said that she spoke about her 'Be Best' campaign, as she explained that one of the three pillars of the initiative is addressing the opioid epidemic.