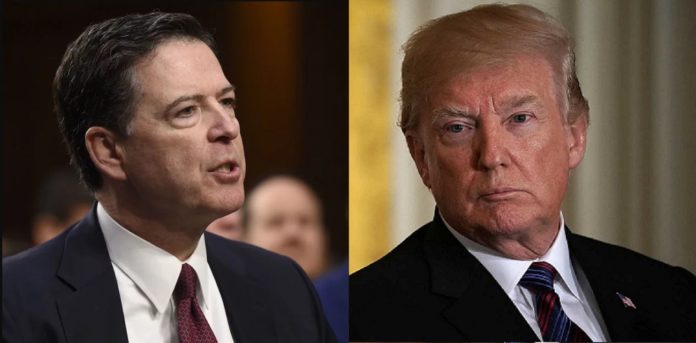 New emails were released which show that ex-FBI Deputy Director Andrew McCabe was oddly aware of CNN's plan to run a stunning report centered on then-President-elect Donald Trump.
In the documents which were shared by Sen. Ron Johnson on Monday, it was revealed that Obama-era FBI officials maintained a certain level of inside information on CNN's reporting.
Furthermore, memos published in April shows that Ex-FBI Director Comey felt compelled to meet with President Trump on January 6th in 2017, because CNN had already obtained the so-called Stelle dossier, the reporters were in search of a 'new hook,' and he did not want the incoming president (President Trump) to be blindsided.
When former FBI Director James Comey shared the details with President Trump, the ex-bureau chief said that Trump told him that he 'couldn't believe' CNN still hasn't published a report on the Steele dossier.
'I said it was inflammatory stuff that they would get killed for reporting straight up from the source reports,' Comey recalled.
On January 8th in 2017, a few days after James Comey's secret meeting with President Trump and after CNN had sat on the Steele dossier for some days, Andrew McCabe sent email to the senior FBI leadership with the subject line, 'Flood is coming.'
'CNN is close to going forward with the sensitive story,' Andrew McCabe wrote, referring to the unverified dossier. 'The trigger for them [CNN] is they know the material was discussed in the brief and presented in an attachment.'
Former FBI Deputy Director Andrew McCabe did not succeed to explain how he knew the 'trigger' for CNN.
Less than an hour after McCabe sent the email to top FBI staffers, he looped in then-Principal Deputy Attorney General Matthew Axelrod and then-Deputy Attorney General Sally Yates. He wrote in an email: 'Just an FYI, and as expected, it seems CNN is close to running a story about the sensitive reporting.'
In 2017 CNN released their report, titled,'Intel chiefs presented Trump with claims of Russian efforts to compromise him.'
Most importantly, one must note that James Comey, in an interview with the chief political anchor for Fox News Bret Baier, disputed CNN's reporting, saying he 'did not' give President Donald Trump a 2-page summary of the controversial dossier.
That led to speculation that ex-FBI Deputy Director Andrew McCabe may have been the news outlet's source.
Ultimately, BuzzFeed News released the full content of the Steele dossier.
The United States Senate Committee on Homeland Security and Governmental Affairs sent a letter Monday to Christopher Wray, the Director of FBI.
Lawmakers are asking FBI Director Christopher Wray to provide them with the 'date and circumstances by which the FBI first learned that media outlets, including CNN, may have possessed the Steele dossier.'
They are also asking for any documents created before James Comey's meeting with President Trump on Jan. 6, 2017.