Former Canadian Prime Minister Kim Campbell outraged many social media users after tweeting that she hopes Hurricane Dorian nails Florida because that's where Mar a Lago is located.
President Trump has spent a lot of time at Mar a Lago, a resort operated by the Trump Corporation and a popular destination for the president's family.
The Mar a Lago resort is located in Palm Beach, Florida. On Thursday, the state of Florida declared a state of emergency ahead of Hurricane Dorian, as it looks like the storm will hit the state directly. Dorian is a Category 4 storm and could bring with it 140 mile-per-hour winds.
Despite the potentially deadly power of this terrible storm, Kim Campbell took to Twitter to celebrate the chance that Dorian could do damage to Mar a Lago.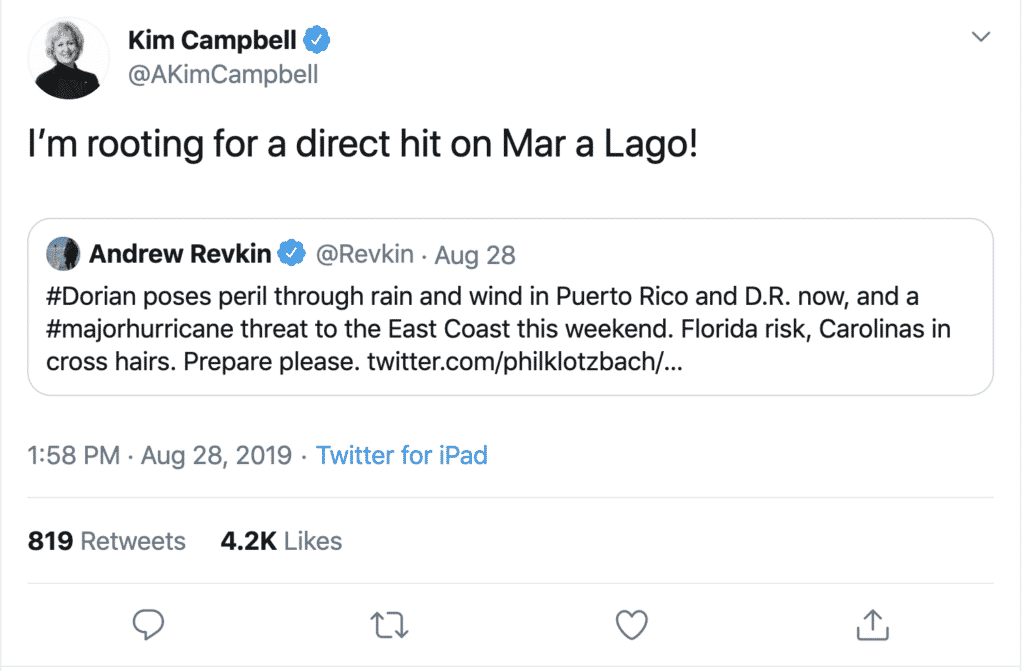 "I'm rooting for a direct hit on Mar a Lago!" Kim Cambell tweeted, linking to an article warning people to prepare for the dangerous storm. The former prime minister later deleted the tweet.
Many social media users were outraged by Kim Campbell's comments ahead of the dangerous storm. They didn't wait long to call her out on Twitter.
While Campbell was tweeting, President Donald Trump addressed the people of Florida from the Rose Garden, warning them to follow the safety advice of experts in the area.
"We're all working very, very hard on Hurricane Dorian. It's been interesting because it looked like it was going to be a very small storm and we all got lucky it missed Puerto Rico. It hit the Virgin Islands, but not as bad as it could have. But it really began to form — and form big. Now it's looking like it could be an absolute monster. We're ready. We have the best people in the world ready. And they're going to help you." President Trump said.
President Trump also noted that it is "almost certain" that the storm will hit the state of Florida. He warned the people of Florida to be prepared if they need to be evacuated and noted that food, water, and other supplies are ready to be shipped to the area.

"Be aware and be safe," said President Trump, adding, "God bless you."