Hollywood celebrity has-been Rob Reiner is once again showing that he is in need of some professional help with an unhinged outburst directed at Christians.
It's no secret that the radical left despises Christianity, has little use for God and have taken their attacks on people of faith to extremes and that is exactly what the activist director has done with his latest tweet.
According to the 72-year-old resistance leader, Evangelical Christians are allied with white supremacists and both have made a pact with Russian President Vladimir Putin to defend Trump from the impeachment lynch mob.
Rob Reiner's obsession is often displayed on Twitter but his latest tweet was particularly ugly as it comes during the traditional Thanksgiving holiday weekend.
"Every elected Republican knows that this President is guilty of countless Impeachable offenses. But they, along with many White Evangelicals & White Supremacists have made a pact with Putin. But unlike a pact with the Devil, this one can be unsigned," he posted on Twitter.
It must've been a pretty crappy Thanksgiving at the Reiner compound. Also prior to turkey day, the Hollywood star offered up advice to liberals on how to hijack the holiday.
Breitbart reported that Hollywood director Rob Reiner is hellbent on seeing President Trump impeached. And now he is shared with his Twitter followers a "How to Talk About Impeachment This Thanksgiving" guide just in time for the holiday.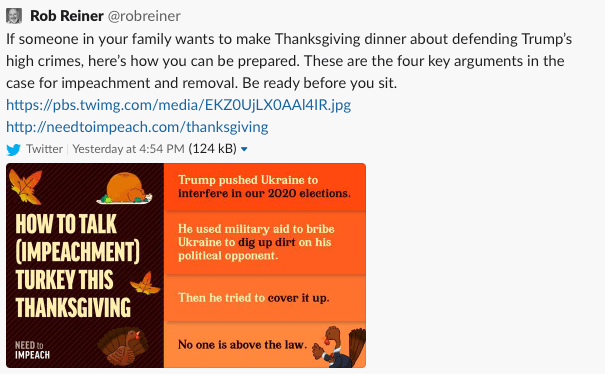 "If someone in your family wants to make Thanksgiving dinner about defending Trump's high crimes, here's how you can be prepared," Rob Reiner said in a tweet that has been deleted. "These are the four key arguments in the case for impeachment and removal. Be ready before you sit."
Reiner's missive also included a link to the website Need to Impeach, a platform replete with a "collection of articles, graphics, and key facts to bring to the dinner table this Thanksgiving," the website reads.
It is obvious that Reiner hates President Trump, rejects the idea of free and fair elections and has continually aligned himself with some of the worst elements of the Deep State in promoting the thoroughly discredited Russian collusion conspiracy theory.