On Thursday, Democratic New York Rep. Alexandria Ocasio-Cortez attacked a Democratic colleague in the House after apparently mistaking him for a Republican.
She took a shot at Democratic Kentucky Rep. John Yarmuth on Twitter for taking a photo while posing next to a cardboard cutout of herself. Ocasio-Cortez appeared to think Yarmuth, who is the chairman of the House Budget Committee, is a Republican.
The freshman congresswoman's attacked Yarmuth after the Republican Party of Kentucky posted a picture on Twitter of Yarmuth standing next to the Ocasio-Cortez cutout.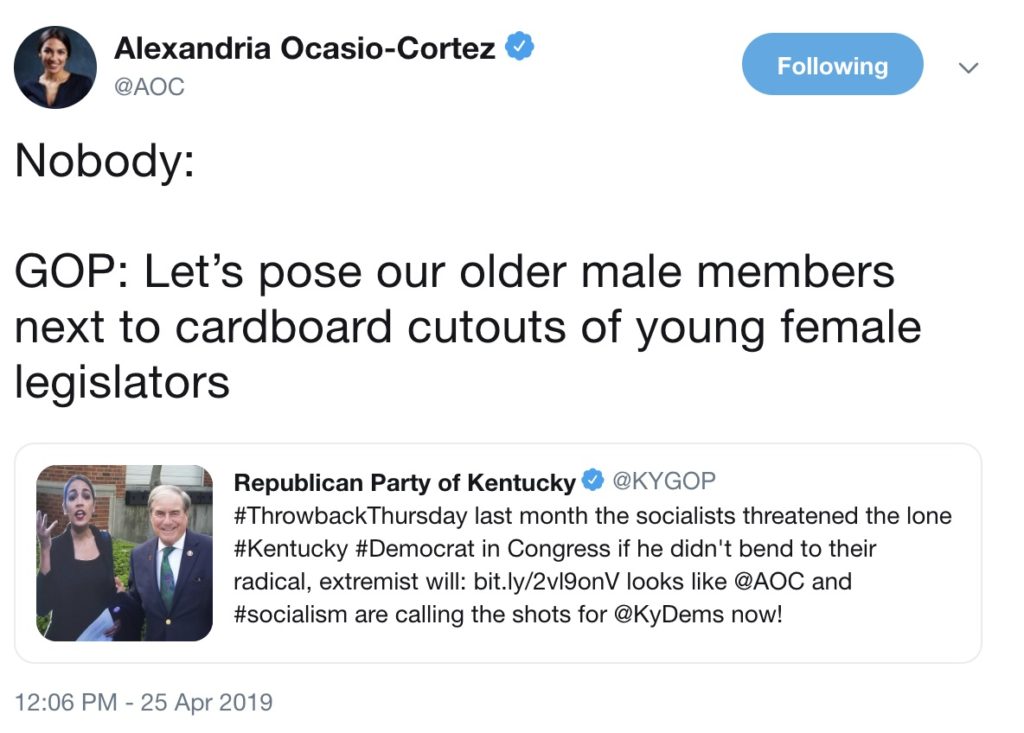 Rep. Ocasio-Cortez accused Republicans of posing "older male members next to cardboard cutouts of young female legislators," seemingly not realizing that Yarmuth is a Democrat.
Ocasio-Cortez deleted her post on Twitter after she was mocked online for the error.
This wasn't the first time she spread misinformation on social media, where she has more than 4 million followers.
Ocasio-Cortez launched another false accusation against a Republican operative back in February, accusing him — without any evidence — of running "a multimillion dollar operation to have bot accounts manipulate online discourse."
She also made a series of false claims in March in an attempt to discredit a string of ethics complaints that watchdog groups have filed against her.