This Monday, First lady Melania wore a dress reminiscent of the late Princess Diana as she accompanied her husband President Donald Trump on the family's first state trip to the United Kingdom.
The First Lady's gorgeous dress was noticeably similar to a white outfit worn by the Princess Diana in 1991 while she attended a parade in London. The event was to celebrate Gulf War veterans' homecoming, which Queen Elizabeth II and the royal family presided over.
Princess Diana's hat was a custom design by British artist Marina Killery, who made hats for London society at the time. The Princess of Wales was reportedly one of Killery's most loyal clients.
First Lady Melania wore a white Dolce & Gabbana suit with a custom hat by Herve Pierre – her personal designer and wardrobe adviser – as she was welcomed to the U.K., according to East Wing spokeswoman Stephanie Grisham.
First Lady Melania's look was completed with navy blue high heels and belt, in which she looked as mesmerizing as ever.
After the first family landed on the lawn of Buckingham Palace via Marine One, they were greeted by Prince Charles and his wife Camilla, who similarly donned a white dress with matching hat, pairing it with cream and light brown accessories and pearl jewelry to complement her three-quarter sleeve dress.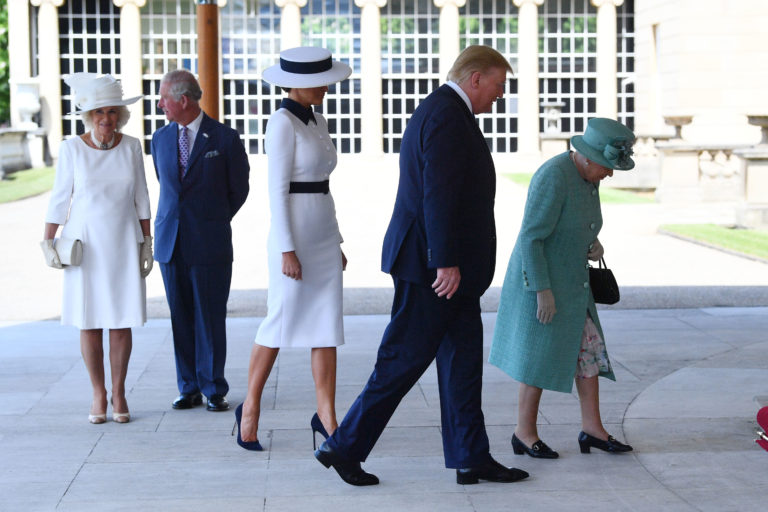 It has been nearly one year since President Trump and First Lady Melania first met with the Queen at Windsor Castle in July 2018. The state visit will continue tonight with a state banquet at the Buckingham Palace.